Well, another summer has somehow managed to fly by again at record speed! This means it's "Back to School" time! I don't know who gets more stressed out by this time of year, the parents or the kids? When I was growing up in the 70's, back to school meant a trip to the fabric store to pick out material and patterns for my mom to SEW a few new dresses, pants, and blouses for me; a trip to JC Penny to buy 1 new pair of "dress" shoes, 1 new pair of tennis shoes, socks and underwear; and a trip to K-Mart to pick up school supplies (which by the way were only: paper, 2 pencils, pocket folders, scissors, glue, a large eraser and maybe some crayons or colored pencils… not like the mile long lists of school supply "demands" that the kids are faced with today!); and a visit to school a few days before it started so we could see who our teacher was going to be.
By the time I had my own kids in school, things had changed quite a bit! My kids wouldn't have been caught dead in ANYTHING homemade, in fact, they were so particular about what "brand" they wore that we had to give them a dollar amount limit for what they could spend for their entire "new school clothes" budget. If they chose to spend it all on 1 pair of "must have" jeans, polo or tennis shoes, that's all they got! (I can still hear the loud music and picture the darkly lit clothing store with all of the skinny, good looking teenage salespeople taking my hard earned money without a single thought as I overpaid for my kids clothes at the mall!) Then they would present me with HUGE lists of "required" school supplies that I had to go to approximately 10 different stores to get… and which would set me back about $75 bucks a kid! As far as finding out their schedules and who their teachers were, well they lived in the age of computers, so a quick check "online" for that information was all they needed to do. Then the real stress started on the first day…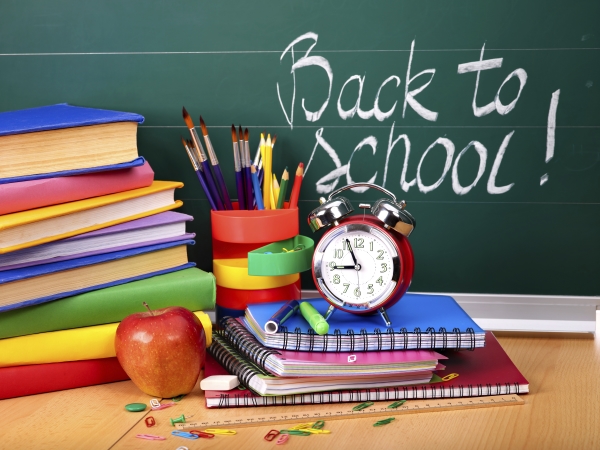 To avoid a lot of stress while transitioning into a new school year, you really just have to follow a few tips or guidelines:
First: you should "practice" for a week or two before the beginning of school; implement earlier bedtimes and start setting the alarm clocks.
Also, make sure you get your kids into the routine of eating breakfast… consider "make ahead" breakfast foods that you can keep in the freezer (e.g. pancakes, waffles or muffins) that can be microwaved.
Next, only buy the "minimum" amount of school clothes (especially in Texas where it is still so hot), because their summer clothes should be fine for at least the first month or longer. However, be sure to confirm what the school's dress code is to avoid any issues!
Now, if you didn't already have one, is a good time to start a calendar or write-off board to keep track of all school and extra-curricular activities for the kids, and work related or social obligations for the parents. Put it somewhere that is easily accessible to everyone in the house… the kitchen is always a good "common ground" spot.
After they are officially back in school, set some ground rules:
All forms, permission slips, notes, or anything that requires a signature must be done the night before it's due back… not as the kids bolt out of the house screaming at you to get your attention while you're backing out of the driveway heading for work!
Limit TV until their homework is done; and provide a proper space for them to "spread out" to do this.
Only allow as many extra-curricular activities as they can truly handle while still getting their school work done. For some kids this is only 1 or 2; for others it may be more. Whatever the case, be sure to check into carpooling with other parents!
Finally, some last bits of advice for getting out the door in the morning quicker:
Lunches and backpacks (preferably with their completed homework IN it) should be packed and ready to go the night before.
Consider selecting their clothes (older kids should take care of this one on their own) the night before as well. This way there is no last minute hunt for "that shoe" or "those socks" in the morning.
And MOST importantly, give YOURSELF 15 extra minutes for your commute to work during busy school day start times, abide by all school zone speed limits, and watch out for kids walking or riding their bikes to school.
I think if you do
all
, or at least
some
of these things, you'll have a much better transition into the new school year, and will continue to have less stress throughout the duration of the year!
Good luck!