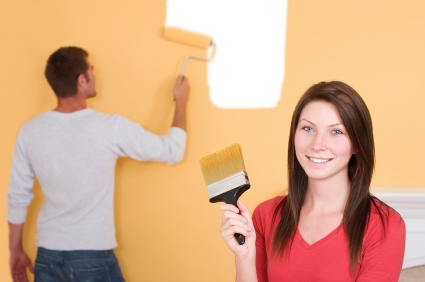 Preparing your home for sale cannot be stressed enough if you want to sell quickly, and for the most money! It may seem daunting to think about doing major repairs, cleaning, and updates…but it will be more than worth it in the end!
First, let's start with the outside of the house…after all, this will be the determining factor for whether or not a potential buyer will even want to go INSIDE! Tidy up the landscaping by cutting & edging the lawn, trimming the bushes and trees, replacing mulch in beds, and adding seasonal flowers for a splash of color. Power wash the entire outside, and paint any trim or exposed wood if needed. Also consider painting or staining your front door and adding a mat that says "Welcome" to create that warm feeling that is so inviting.
Next, clean, clean, clean the inside of your home! This is the #1 improvement that will make the biggest impact for the least amount of money. Have you ever gone into a house that was for sale and it was filthy? What was your reaction? Not very good, I'm assuming! If you simply don't have the time to do an adequate job yourself, then hire it done. A professional service can do the job quickly and thoroughly, and usually for less money than you think. After the initial clean, all you need to do is the "upkeep" such as making sure your beds are made, dishes are put away, floors are vacuumed or swept, and all surfaces (table tops & counters) are free of clutter before every showing.
Kitchen and Bathrooms sell houses…so update yours! You don't have to break the bank either; paint cabinets and add new hardware rather than replacing them. Switch out old light fixtures for new ones that are current and provide the best/most appealing light for a room.If you have any "taste specific" wallpaper or wall colors, remove it, and repaint with a new "in" color; but be careful to only choose a neutral color that will attract ALL buyers.
Consider replacing old, worn out flooring with new carpet or even hardwood.If this is not in the budget, or if your flooring is still in good shape, at the very least, you need to have it cleaned: steam clean carpets, clean/polish hardwoods, and steam clean tile/grout. It's amazing how a stain or grungy grout can deter the masses. People just can't seem to look past this.
Lastly, stage your home! For a couple hundred bucks (depending on the severity of your home's condition) you can hire a professional to help you de-clutter, organize and stage your home to sell. In a 2015 NAR survey of buyers, 81% said it was easier to visualize the staged property as their next home! In addition, 50% of homes that are staged sell for 10% more…and are on the market for 72% LESS time! It's important to realize as well, that you are selling your home to
someone else
…it doesn't matter what YOUR personal decorating tastes and cleaning habits are…what really matters is what will attract the most buyers so that your home sells quickly, for the most money!