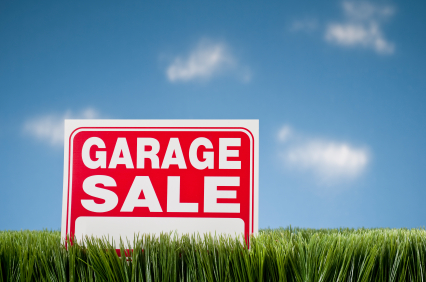 Spring is fast approaching…which means garage sales will be popping up all over Castle Hills and the surrounding communities. If you are planning on putting your house on the market, a garage sale might be in order as you begin packing and "de-cluttering" your home! Want to guarantee that you will have a successful sale? Just follow these tips:
First off, don't wait until the day before your sale to go through your stuff! Throughout the year, periodically go through your closets, drawers, cupboards, etc…and gather the items that you no longer want to keep, and put them in a designated "garage sale stock pile location" (e.g. guest bedroom closet, or space in attic). Tell all the members of your family to do the same…
The week before your sale, organize the items in your stock pile, and clearly mark everything with a price. It's ok to put multiple items such as books in one box, and mark the box with "ALL BOOKS $1 each", however, most everything else should be priced individually.
Be sure to price everything just a little bit higher than what you will take for it, as your customers will inevitably want to "talk you down" in order to feel like they are getting a deal.
Keep your prices simple and no less than a quarter: .25, .50, .75, $1, $2, $3, etc…if you think something is worth less than a quarter, put it in a box marked "FREE".
Set up your sale a day or two prior to the sale date; (best day for a sale is Saturday). It is best to set up your sale INSIDE the garage just in case it rains… (Yes, people still go to sales even if it's raining)! If the day is pleasant, you can pull large items and tables out into the drive way.
In our area there really is no need to advertise your sale in advance. If you have good signage, THEY WILL COME! (An exception to this rule is if you have some higher priced furniture or electronics that you want to sell; you may want to put them on Craig's List or some other public source and reference your garage sale.)
Speaking of signage…this may very well be the MOST important key to your success! Go ahead and spring for the nice signs from your local Home Improvement store (Lowe's or Home Depot). They are not that expensive, and you can use them over and over again. CLEARLY write your address on all signs with BLACK sharpie. Place signs on major corners/intersections that lead into your block/subdivision; then on the corner of your street, and finally directly in front of your house. Also-be polite and REMOVE all of your signs as soon as the sale has ended!
Have plenty of change: I always start with $2 in quarters, $20 in one dollar bills, 2 $5's and 1 $10 dollar bill.
Be leery of anyone wanting to make a purchase with a $100 bill; insist that they pay with smaller bills. Also-never take a check unless you know the customer personally. ATM's are open 24/7, so there should be no problem for anyone to get cash. Keep your cash in a container with a lid (e.g. plastic Tupperware container, tin or shoebox), and bring all $20 dollar bills inside the house in a safe spot as you get them.
Have these supplies at the ready: bags, wrapping material, extra price stickers/tags, pens and a calculator.
ALWAYS have a partner working the sale with you…NEVER have a sale by yourself! It is just simply not safe! It's also a good idea to have your cell phone in your pocket or nearby.
Lastly, pre-arrange for a non-profit organization to come and pick up your remaining items after your sale is over. Salvation Army or Boys & Girls Clubs are good choices for this. Be sure to get a receipt for tax purposes however!
Good luck, and HAPPY SELLING!